A little about me…
Hi I'm Mandy, the most thrilled person in the universe. Why am I so thrilled?
I am amongst the 19 lucky authors chosen to be published in the 'Gentle Footprints' anthology. Like Dulcie who gave us the Week of the Bear, I was hoping against hope to be included in the anthology alongside Richard Adams, and also to have the patron of Born Free Virginia McKenna to promote such a worthy cause.
I was born in Sheffield South Yorkshire. Ever since I was knee high to a grasshopper (do they have knees?), I have written short stories and poems. I must have been about eight when I pestered my parents to buy me a petite typewriter for Christmas and I carried on from there. The only subjects I liked at school were English and History and I was inspired by the war poems of Wilfred Owen. I continued to write bits and bobs and took refuge in writing during the teenage angst years!
I left school at sixteen with no qualifications to speak of and had a variety of jobs including hairdressing and working in a factory. I was married at eighteen and had my daughter Tanya at nineteen. After many twists and turns, including a move to Bristol and a second marriage to my husband Brian, I ended up being a teacher, but I never stopped writing and my heart has always belonged to it.
My story is called 'All Things Under the Sky' I wrote it back in September sitting at the top of my garden in the shade with a lead to the laptop. I think it helped centre my thoughts on the open veldt of Africa. (I know Bristol is not quite the same, but you get my meaning). I knew that the Born Free Foundation was synonymous with the lion, and therefore never considered any other animal for my story. Of course I have since found out that the foundation helps lots of animals.
My characters just came to life and told the story themselves. Of course I had an idea about where the story was going but as happens so often when I write, the characters take on a life of their own and I often just follow their lead.
I have always had a love of big and domestic cats and have shared my life with the latter for as long as I can remember. I saw the film Born Free when I was again vertically challenged and it had a big impact on me. I have always been opposed to the caging of any wildlife and have refused to visit zoos sometimes at the puzzlement of others. They argue that zoos are not like they used to be – nevertheless I don't feel comfortable viewing creatures behind bars. I also fail to see how shooting animals for sport can have any beneficial effect on humans.
My story focuses on the development of a young male lion Jubari as he is on the verge of leaving the pride. He learns from his father Lencho the head of the pride about the dangers of man and the nature of some of our kind.
Excerpt from 'All Things Under the Sky'
"Many years ago there were no limits to our hunting grounds and the hind leg walkers had only a few dens here. Now their dens are increasing. There are many barriers of stone and sharp vine that sometimes kills an animal if they touch it. Our hunting land is smaller because of this, but we have tried to keep away from their dens. In the old times the dangers were not known, and a few of our kind wandered too near to the dens. They were seen, and the killing sticks took two of us and wounded another. This one was not too badly hurt but couldn't run away. They threw him in a small pen with sticks driven round him in the ground. He couldn't escape and the sticks were too hard to bite through."
Lencho stopped for a second and said, "Now Jubari, what I am about to tell you is upsetting but you must hear it. When you have heard it you will never forget it."
Jubari looked at his father and for once was at a loss for words. He didn't want to hear it but he knew he must.
"The two dead lions were skinned and their coats adorned the bodies of the hind leg walkers. One of the heads was set on a sharp stick and shook at the pen, taunting the wounded one. They made strange sounds like hyenas, and drank liquid from shiny objects. They jabbed the wounded one with sharp sticks and cut his great mane about. They fetched blood along his back, and all the time howled and drank. They did not eat the flesh of the dead ones, and since that time, they have been observed sometimes killing animals and leaving them to rot on the plain."
Jubari could stand it no longer and he leapt up crying,
"What are these creatures who would take the life of another for no reason, to kill but not eat? I will find these hind leg walkers and kill them all!"
"Silence Jubari! Have you learned nothing so far? You wouldn't stand a chance against them. Even if all of our kind joined together we could not beat them."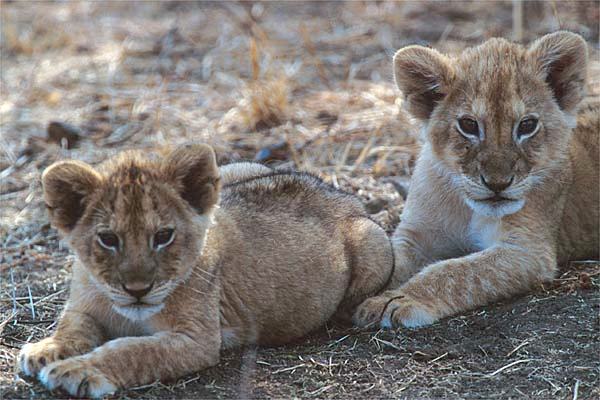 In later posts I will be sharing information about the lion in culture, literature and everyday life. I will also include lion facts, and of course information about the fantastic work of the Born Free Foundation!